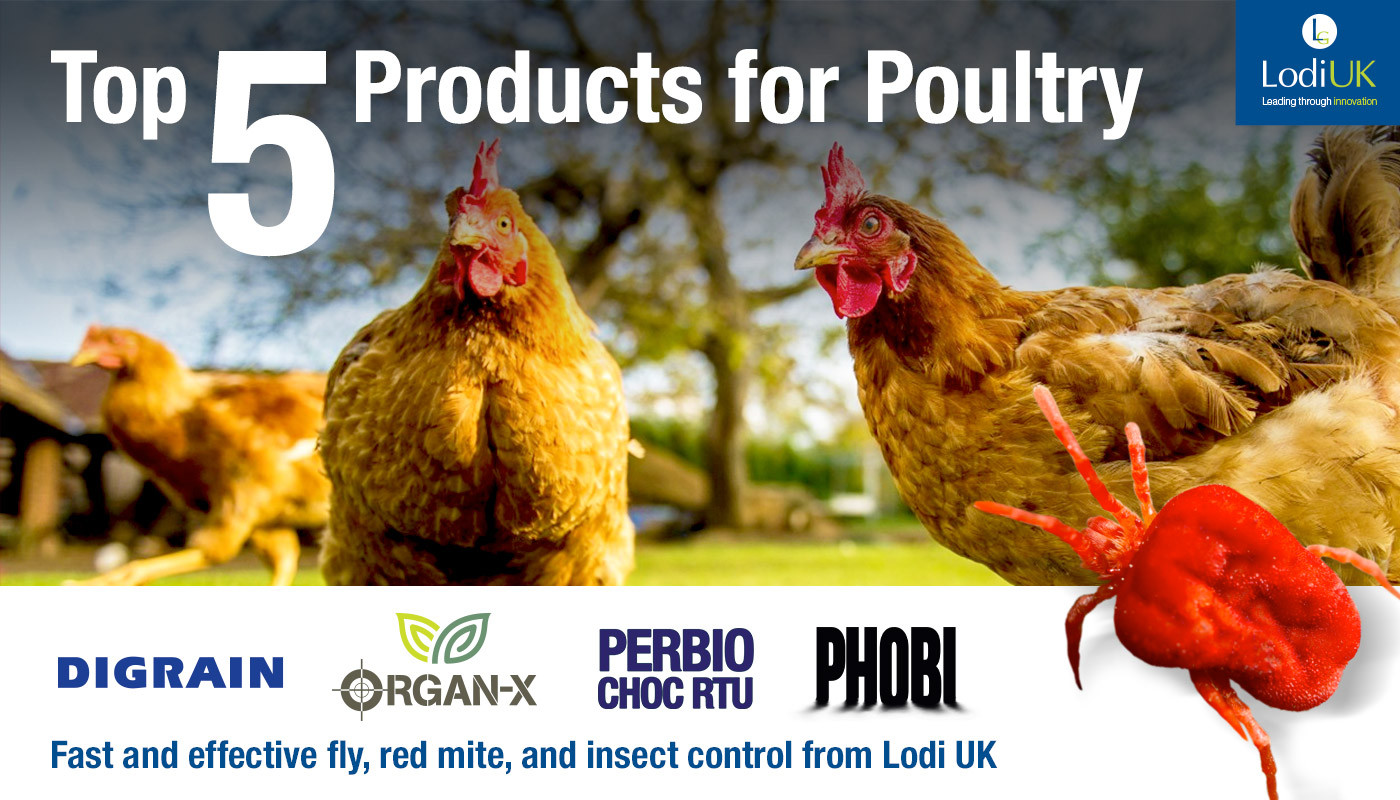 Lodi UK has a range of products that are designed for use in poultry housing. Whether you're a professional poultry farmer or have only a few hens, read on to find out our top products for poultry and how to use them.
INSECTS AROUND your poultry housing

RED MITES
Red mites are one of the worst pests that you can get as a poultry farmer. They are a parasite that lives in poultry sheds and feeds on hens' blood while they sleep at night.
Red mites
can be difficult to spot as they are
tiny - between half a millimetre and a millimetre long.
They are grey, apart from when they have just fed and then they are bright red. The insect causes weakness, restlessness, increased feather pecking, anaemia and, in severe cases, death. Red mites might also cause the transmission of diseases such as Salmonella, mycoplasma, coccidiosis, e. coli and Newcastle virus. Red mites have also been known to bite people causing painful, irritating bites. Red mites can lead to reduced weight gain in broiler chickens and reduced egg quality in laying hens.
Read more about controlling red mite on your farm with our new How-to-Guide
FLIES
Poultry farms are the ideal 5-star accommodation for breeding flies! With the combination of muck, stable ambient temperatures and the intensification of farming throughout the UK leading to the increase of fly infestations.
This is coupled with the UK's annual climate gradually warming up, with recorded temperatures soaring to highs of up to 38.5 degrees Celsius. Milder winters and warm summer months accelerate the breeding and reproduction of all types of flies from larvae to adult resulting in fly population explosions. Flies are a major nuisance on-farm causing stress to animals, the farmer and local neighbours.
Flies also carry diseases, some of which are zoonotic (transferable to humans) as well as causing huge financial losses on farms around the world. For example, flies transmit disease such as Avian Influenza, Brachyspira, Salmonella, E. coli, coccidiosis, Anthrax, Dysentery and Tuberculosis.
Flies account for billions of pounds worth of losses in poultry and animal livestock production around the world.
Having a good fly control program in place can spare your animals a huge amount of suffering and aggravation from both biting and non-biting flies. It will save you lots of time, money, increased production, increased conditioning of animals, as well as reducing disease.
LODI's BEST INSECTICIDES FOR POULTRY HOUSING & RED MITE

Perbio Choc
Digrain Perbio Choc is one of Lodi's best-sellers and it's easy to see why! It is currently the UK's strongest oil-based ready-to-use insecticide. As well as being effective against the dreaded red mite, Perbio Choc is effective against most other flying and crawling insects, such as litter beetles, wasps, ants, and fleas. It has a quick knockdown and a long residual (up to 3 months) which means that it only has to be applied 4 times a year for maximum ease. It can be applied using a spray bottle or with a brush and it can also be ULV fogged to treat flies, mosquitoes & midges. It can be applied to all surfaces, cracks, crevices, and hard & soft furnishing which makes it the ideal all-purpose insecticide.

Phobi
CAPS
Phobi CAPS is a new UK Prallethrin that takes effect in less than 15 minutes. It can protect treated surfaces for as long as 12 weeks as the different sized micro-capsules ensure a continuous release. The microencapsulation ensures the long-term stability of the action against light, temperature, and humidity. It is active on porous and non-porous surfaces so red mites have nowhere to hide! It can be sprayed to cover large areas quickly and easily. Like Perbio Choc, it can be used against a variety of flying and crawling insects like cockroaches, bed bugs, ants, flies, and mosquitoes.

Desi-DUST
Desi-DUST is perfect for those who farm organically or who would like to reduce their use of chemicals. Desi-Dust is safe around all animals and can also be used around plants to keep them safe from ants and other pests. Under a microscope, the naturally mined mineral looks like broken glass. When the pests crawl over the dust, it pierces the waxy outer coating from the insect's exoskeleton, so they die of dehydration.

Maggots Larvicide
Maggots has been specially formulated to be used in commercial poultry housing (it can also be used in pig housing). It is a highly effective larvicide whose active ingredient, cyromazine, stops maggots from becoming adult flies. It is harmless to beneficial insects. The granules make it incredibly easy to use. It can either be sprinkled onto slurry, dropped between the floor slats in poultry sheds before a lay, or sprayed if it diluted in water. Results can be seen in as little as two weeks. Maggots will help to reduce liquefaction of manure, leading to easier removal of manure, saving time and money. The product is proven to reduce ammonia and help to reduce odour, therefore reducing ventilation costs. A decrease in fly population is proven to increase productivity in animal housing.

DIGRAIN C40 WP
Digrain C40 WP is a new insecticide wettable powder containing 40% Cypermethrin. It's an alternative to Ficam with proven 100% long term mortality on bedbugs and cockroaches - although it is very effective against all crawling and flying insects. It can be used on any furnishings, hard and vertical surfaces where pests may rest. It has proven long-term residual activity so it can be used less often for maximum ease of use.
Need more information?
If you have any questions about pest control products, email us at contact@lodi-uk.com and one of the experts on our team will help!