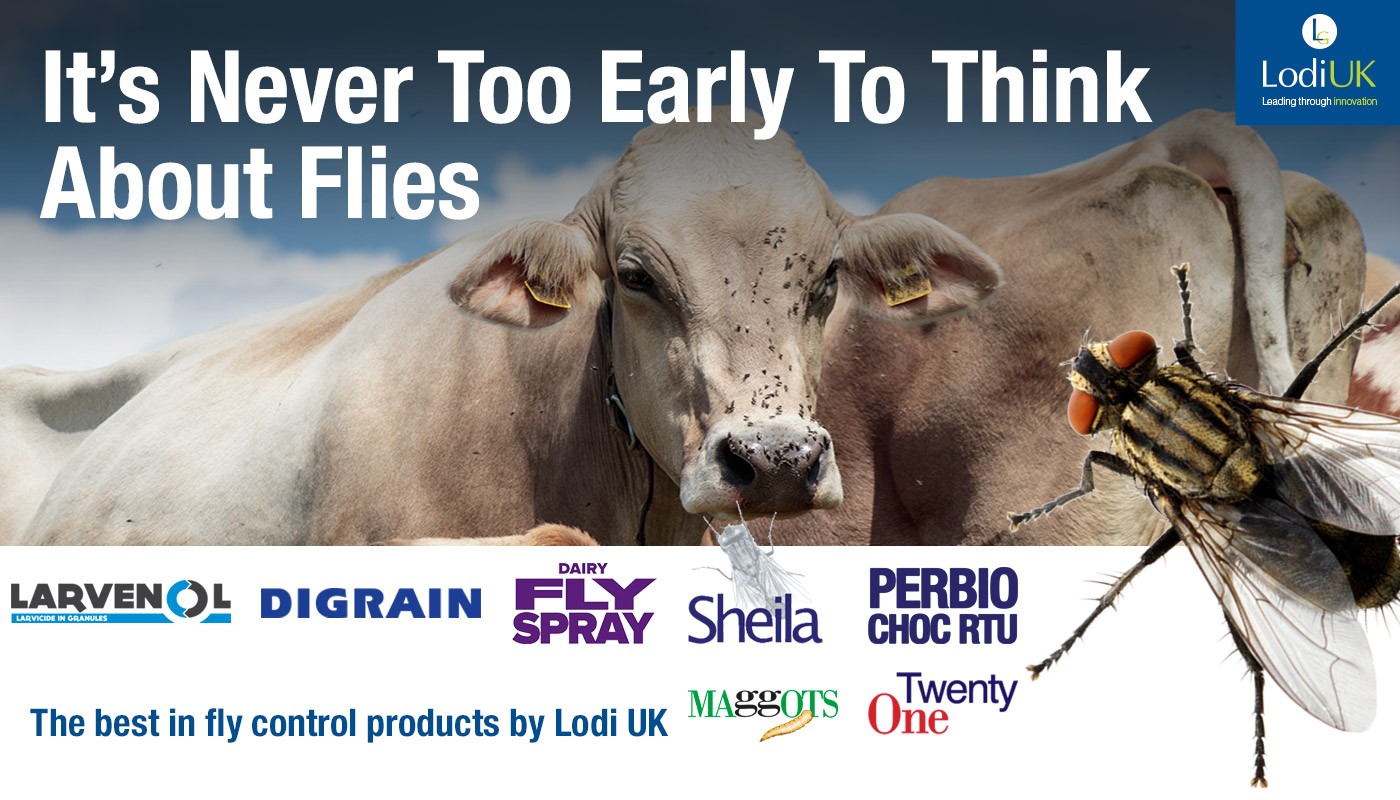 Flies could cost pig & poultry farmers 10% in lost growth rates and egg production.
There are 7,000 species of flies in the UK, but only 20 cause issues for livestock. Flies are the most common ectoparasite for most farmers.
Did you know that the lifecycle of flies is dependant on temperature? Flies can reproduce year-round in warm conditions, but their life cycle becomes shorter as the temperature increases. The life cycle takes 50 days from egg laying to adult at 16°c. This decreases to 16 days at 25°c and 7 days at 35°c. As the temperature of pig and poultry units are heated all year round (between 16°c and 36°c), they are the perfect location for flies to flourish!
When the flies hatch, breeding is their first priority – more so than eating! Within 48 hours of hatching, they can begin laying eggs. The lay 100-150 eggs at a time and they can lay 4 or 5 times during their short lifespan. You can see how infestations explode so rapidly!
When Dr Kai Sievert spoke at the 2015 PestEx event, he reported on a research study that compared the growth rate of pigs in housing with an untreated, moderate fly infestation (6-21 flies trapped on glue traps per day) and in housing where the flies were controlled. The pigs were finished in 109 days in the systems where the flies were controlled, compared to 121 days in the housing where they aren't – an increase of 11%! Dr Sievert estimated that the feed cost savings were €15,000 per pig house in treated housing with a capacity for 1500.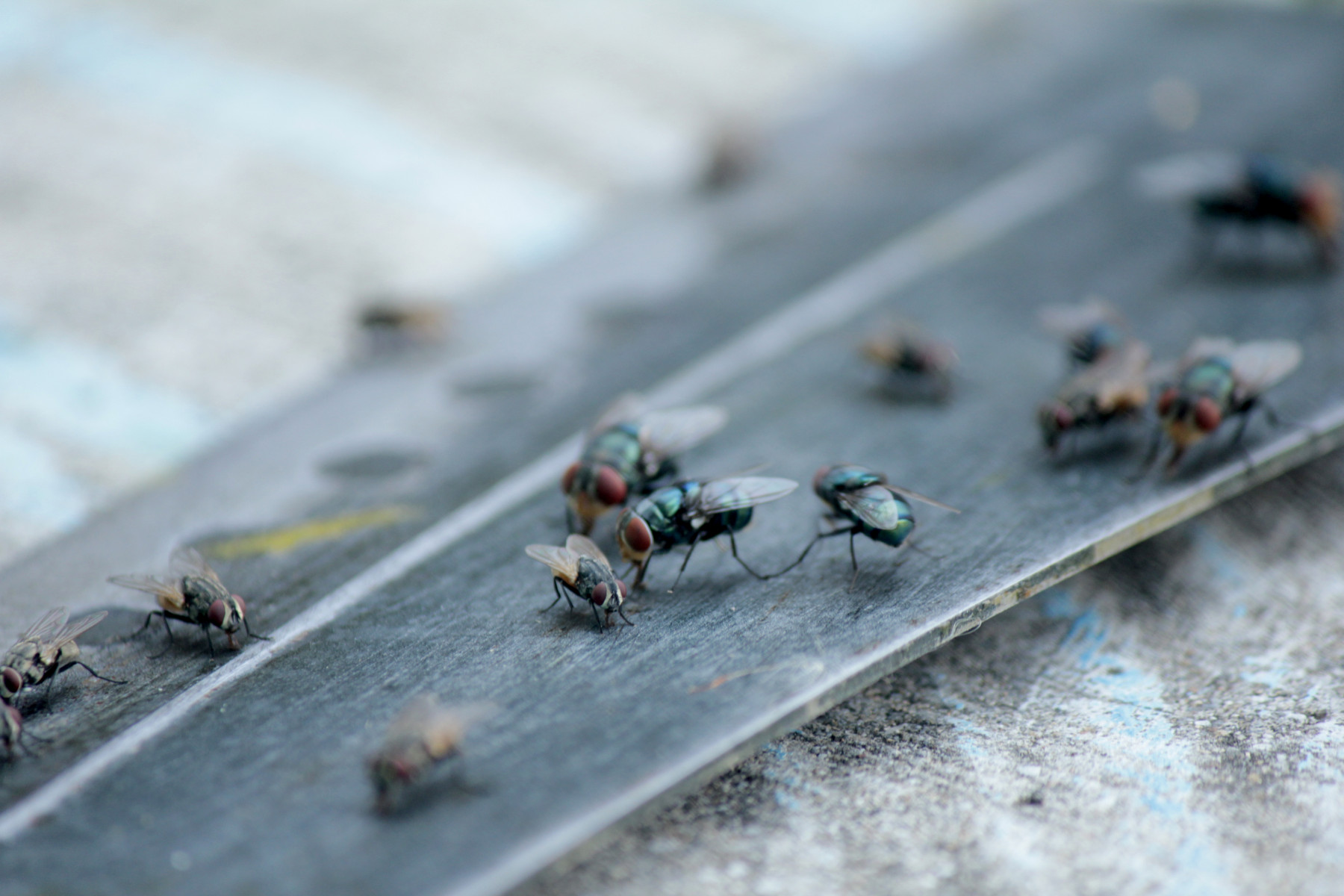 Flies aren't only an issue for pig producers. For poultry farmers, house flies (Musca domestica) bring the threat of cestodosis which can reduce egg production by 10%. Flies can spread the bacteria which causes Summer Mastitis, which can cost up to £300 per case to treat. In calf-rearing systems, infestations of biting flies (Stomoxys calcitrans) were over 100 flies per calf, weight gain can be reduced by 20% in beef units. It is common for between 1 and 3% of sheep in a flock to be affected by flystrike, which is a devastating and sometimes fatal condition caused by maggots.
Only 15% of the total fly population is made up of adult flies at any one time, it is essential that an integrated fly control system is used. If an adulticide is used solely, the eggs, maggots and pupae will reinfest your buildings quickly.
Lodi UK are on hand with a range of products to attack flies at every stage of their life cycle.
Maggots Granular Larvicide contains a highly effective and specific growth regulator called Cyromazine. It is easy to use and is a water-soluble granular larvicide that can be directly sprinkled on slurry or best sprayed after dilution in water. This treatment stops larvae from developing which ultimately breaks the fly cycle so flies will be eliminated. The Maggots larvicide offers a long residual effect and is safe to use around livestock.
Twenty One WP Fly Concentrate is a uniquely formulated wettable powder for the control of both biting and non-biting flies in poultry, pig and livestock housing. It contains 10% Azamethiphos which is the key active in Twenty-One and has fast become the leading brand and the farmer's choice of control for nuisance flies. Thanks to its quick, effective and long-lasting capability of up to 12 weeks, Twenty One is the only product that kills by both contact and ingestion. It is key to identify what type of fly you are trying to control in order to choose the correct application method and to get the best results out of the product.
Larvenol Larvicide RTU is a brand new insect growth regulator which can be used in pig, poultry and other livestock systems. It contains S-Methoprene which inhibits maggots and larvae from becoming adult flies. Its' low application rate (30g/m2) and long 8-week action mean that it's an ideal product for busy farmers.
Sheila RTU Granular Fly Bait is a ready-to-use insecticide that is designed for use where flies congregate, such as in animal pens. It contains unique sex pheromones and attractants that lure flies to the granules. The bright yellow granules contain Azamethiphos which is the fastest chemical on the market and are the only bait that kills by contact and ingestion. You can really see the instant results by the dead flies next to the bait.
Digrain Perbio Choc RTU is the strongest oil-based ready-to-use insecticide available to the UK farmer. It is effective against most flying or crawling insects, from flies and wasps to red mite and stored grain pests. It can be fogged or sprayed for ultimate ease. With its' 3 month residual and fast knockdown, it should be an essential item in every farmer's store!
Digrain C40 WP is one of Lodi's flagship products – for good reason! It has a wide range of applications on farm and has a proven 100% mortality against insects, such as flies, bedbugs and cockroaches. Like Perbio Choc, it has a quick knockdown and long-acting residual.
Lodi's Dairy Fly Spray Concentrate has been specially designed for use in dairies and milking parlours. It's a highly concentrated pyrethrum formulation that will target and control insects fast. Pyrethrum is unique in that after it has controlled the infestation it will disappear, making it ideal for the parlour.
NEED MORE INFORMATION?
If you have any questions about pest control products, email us at contact@lodi-uk.com and one of the experts on our team will help!