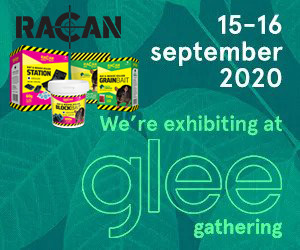 We lead through innovation, supplying the most effective products available. The active ingredients and formulations of both the insecticides and rodenticides are the same as supplied to our European professional pest control market. Stocking the Lodi range of products you have full 'peace of mind' that you are supplying your customers with products proven to work fast!
NEW PRODUCT LAUNCHES TO RETAIL
While attending GLEE Gathering this year, we are proud to launch our new range of the most effective and fast-acting rodent control products to the UK market. Our Racan range, all new and improved, is the UK's rodenticide brand and continue to lead sales featuring our 'multi-packs' display option, all-weather single-feed blocks, and the latest packaging design.
NEW RACAN FORCE BLOCK
Racan Force Block is an all-weather, amature-use bait formulated from a blend of premium grade cereals and added attractants to give proven efficacy in the most difficult environments, killing rodents in a single feed.
TARGET BETTER PROFIT MARGINS
Racan products are designed to stand out on the shelf highlighting the product's unique benefits and will ensure speedy sales, good margins, and happy customers. Our range of products has been specifically branded, packaged and priced to appeal directly to the consumer as well as resellers. The products are of the highest quality to ensure fast and effective success in controlling pests. Lodi UK produces and supplies products direct to retailers so that you maximise your profit margins with a complete range for every customer requirement.
BEST SELLING MULTI-PACKS ADDED TO RACAN RANGE
We are excited to announce the release of Racan Dife Multi-packs to the range.
FREE MARKETING SUPPORT AND POS DISPLAYS
New modern display stands as well as shelf banners and posters have been designed and created with a leading retail design team to ensure that the Lodi UK range of products is the first to catch the eye of prospective customers. All our Point of Sale items are available FREE with small minimum orders – please contact us to discuss your requirements.
DEDICATED USER GUIDES AND VIDEOS
New modern display stands as well as shelf banners and posters have been designed and created with a leading retail design team to ensure that the Lodi UK range of products is the first to catch the eye of prospective customers. All our Point of Sale items are available FREE with small minimum orders – please contact us to discuss your requirements. With proven product ranges and over 40 years of experience in the pest control sector manufacturing product, Lodi UK is now offering a suite of marketing material to support retailers. Assisting the promotion of product, both online and in-store, Lodi UK marketing material is designed to promote sales for customers. View online: www.lodi-uk.com/media