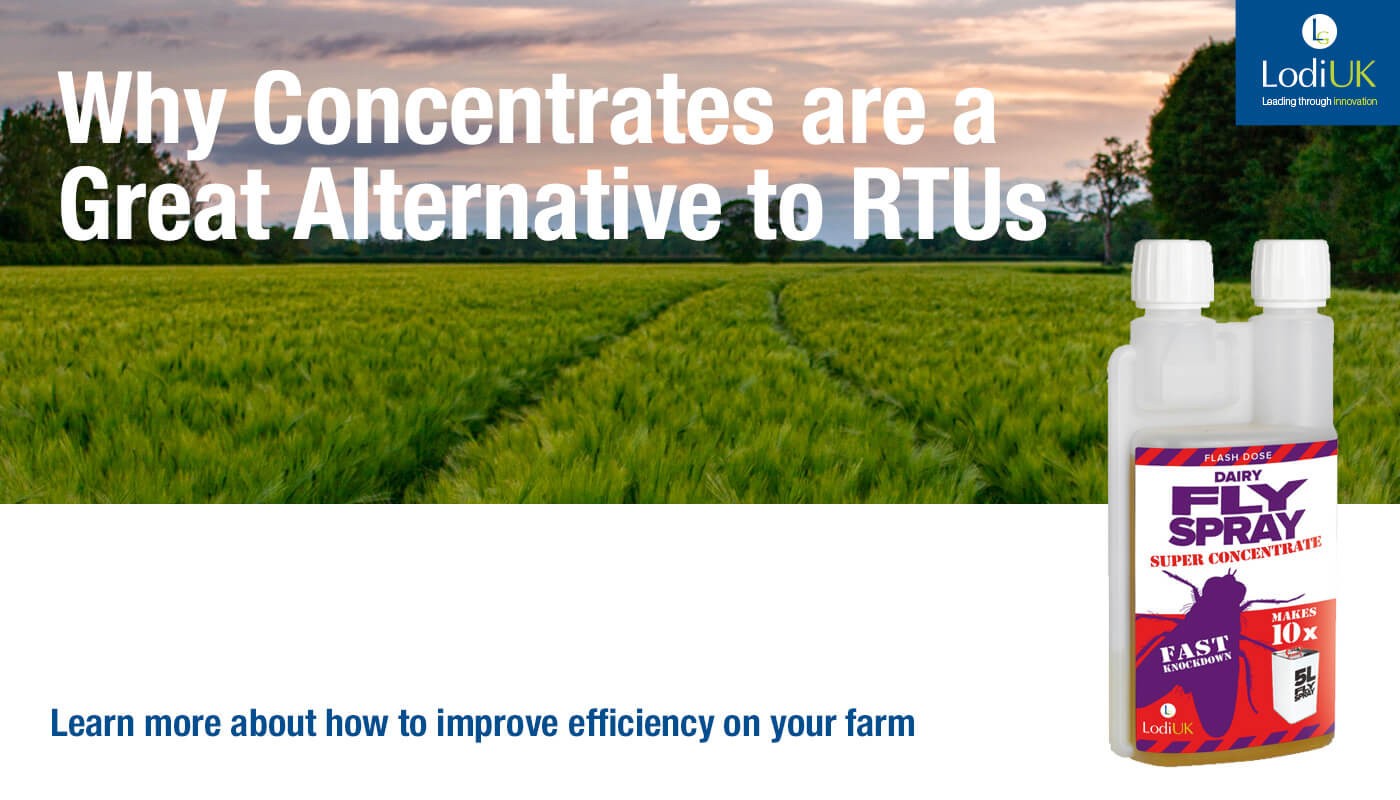 We love concentrates at Lodi UK! As well as cutting down on plastic waste, they also give you more bang for your buck! Read on to find out why…
What's the difference between concentrates and ready to use (RTU)?
Concentrates are products that are designed to be diluted with water before use. They can be either liquid, granules and powders. Their higher cost for a single bottle is outweighed by their much higher dosage rates per use. One reason is because you're not paying over for water to be transported and less packaging. They also take up less space on your shelf and in your workshop!
Ready to use products are sold in their correctly diluted and safe to apply concentrations. Some of them come in spray bottles or aerosols. The main advantage of buying ready to use products is that they are simple and easy to use with no mixing required. They also benefit from being consistent as they are made in a factory that uses the same water supply every day and checks regularly to ensure quality.
A million bottles every minute!
Did you know that one million bottles are sold every minute? A pile of all of the bottles sold each hour could cover the Christ the Redeemer statue in Rio de Janeiro! Between 1950 and 2015, 8.3 billion tonnes of plastic was produced and only 100 million tonnes is still in use. That's just over 1 per cent!
Eco-friendly option
Concentrated products are better for the environment! As the treatment concentration is made up on farm, less space is needed in transport vehicles which lowers the amount of carbon emissions released and the number of lorries on the road. In the factory, concentrated products need less plastic packaging, less water, less effluent and less pollution!
WHY ARE RTUs still important
Some products are not possible to manufacture in a concentrated form and so an RTU is suited here. RTUs also offer more convenience to those who may not have access to water for the dilution or certain equipment.
To suit your needs Lodi manufacture both concentrates and ready to use products!
Dairy Fly Spray
Lodi's Dairy Fly Spray Concentrate is a 500ml bottle of a highly concentrated pyrethrum formula. 50ml of the Dairy Fly Spray can be mixed with 5 litres of water. This means a 500mL bottle can produce the same amount as to make 50 litres of RTU!
Digrain C40 WP
Digrain C40 is a wettable powder, meaning that it's dissolved in water before being sprayed. As it's dilution rate is 2g per litre, it is incredibly economical and it's 100% long term mortality means that it should be a workshop staple!
Digrain Perbio Choc
Perbio Choc is the UK's strongest oil based ready to use insecticide available to the UK farmer. Its oil-based nature, which makes it so effective, means an RTU is the best option for this product and a 5-litre container can treat up to 12,500 cubic metres!
NEED MORE INFORMATION?
If you have any questions about pest control products, email us at contact@lodi-uk.com and one of the experts on our team will help!