Professional Pest Control
Phobi Smoke Pro 90C
---
Product: Phobi Smoke Pro 90C
Code: G3053
Description: 93g Grain store smoke, Cypermethrin
ENQUIRE: Phobi Smoke Pro 90C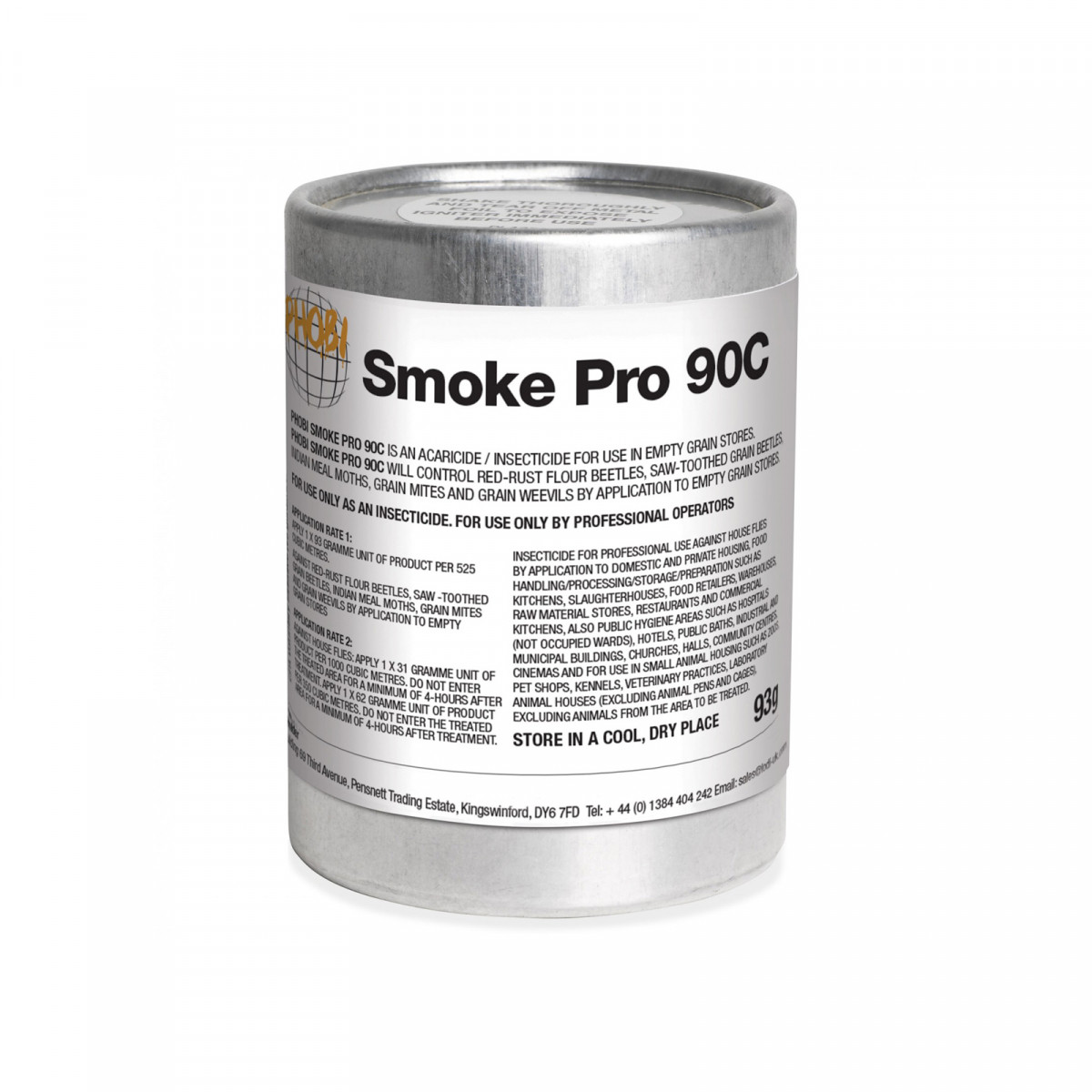 Phobi Smoke PRO 90C - Grain Storage Protection for Farmers
Highly effective, 100% efficacy

For use in empty grain stores

Controls grain beetles, grain weevils, and grain mites

Treats 525 cubic metres

Easy-to-use, light & leave action
Phobi Smoke Pro 90C is an acaricide / insecticide for use in empty grain stores. Phobi Smoke Pro 90C will control Red-Rust Flour Beetles, Saw-Toothed Grain Beetles, Indian Meal Moths, Grain Mites and Grain Weevils by application to empty grain stores.
Simply light the wick of the smoke and place in the empty grain store and the smoke will reach into all the nooks and crannies where the insects hide.
Active: Cypermethrin 6.75 % w/w
HSE: 10449
READ ALL PRECAUTIONS BEFORE USE.
For use only by professional operators:
Remove/cover processed foodstuffs, utensils and food preparation equipment.
Cover unprocessed foodstuffs.
Seal area to be treated as effectively as possible.
Close doors and windows, block fire places and exclude draughts.
Clear people, plants and animals, including fish, from the area to be treated.
Take the required number of smoke generators.
Remove the container cap.
Place each smoke generator on a fireproof base approximately 300 mm x 300 mm but not in a bucket or other enclosed space.
When a number of generators are being used, space them throughout the area to be treated and prepare all for ignition before lighting the first.
Light the igniter using a match.
Do not leave lighted match on generator.
Light smoke generators in sequence, starting with the furthest from an identified exit.
Leave for not less than two hours or one hour per 1.5 m ceiling height.
After treatment is complete, open windows and doors and ventilate thoroughly.
The product may be used to treat empty bins and stores, or spaces where unprocessed foodstuffs are protected from deposits of the insecticide by means of a covering not more permeable than twill jute sacking
Application rate:
Apply 1 x 93 gramme unit of product per 525 cubic metres. Against red-rust flour beetles, saw -toothed
Grain beetles, Indian meal moths, grain mites and grain weevils by application
To empty grain stores.
Do not enter the treated area for a minimum of 4-hours after treatment. Apply 1 x 93 grams of product per 3000 cubic metres.
For use only as an insecticide
Active: Cypermethrin 6.75 % w/w
HSE: 10449
READ ALL PRECAUTIONS BEFORE USE.