Professional Pest Control
K-Obiol ULV 15L
---
Product: K-Obiol ULV 15L
Code: K-OBIOLULV15
Description: Liquid grain protectant - treats 357 T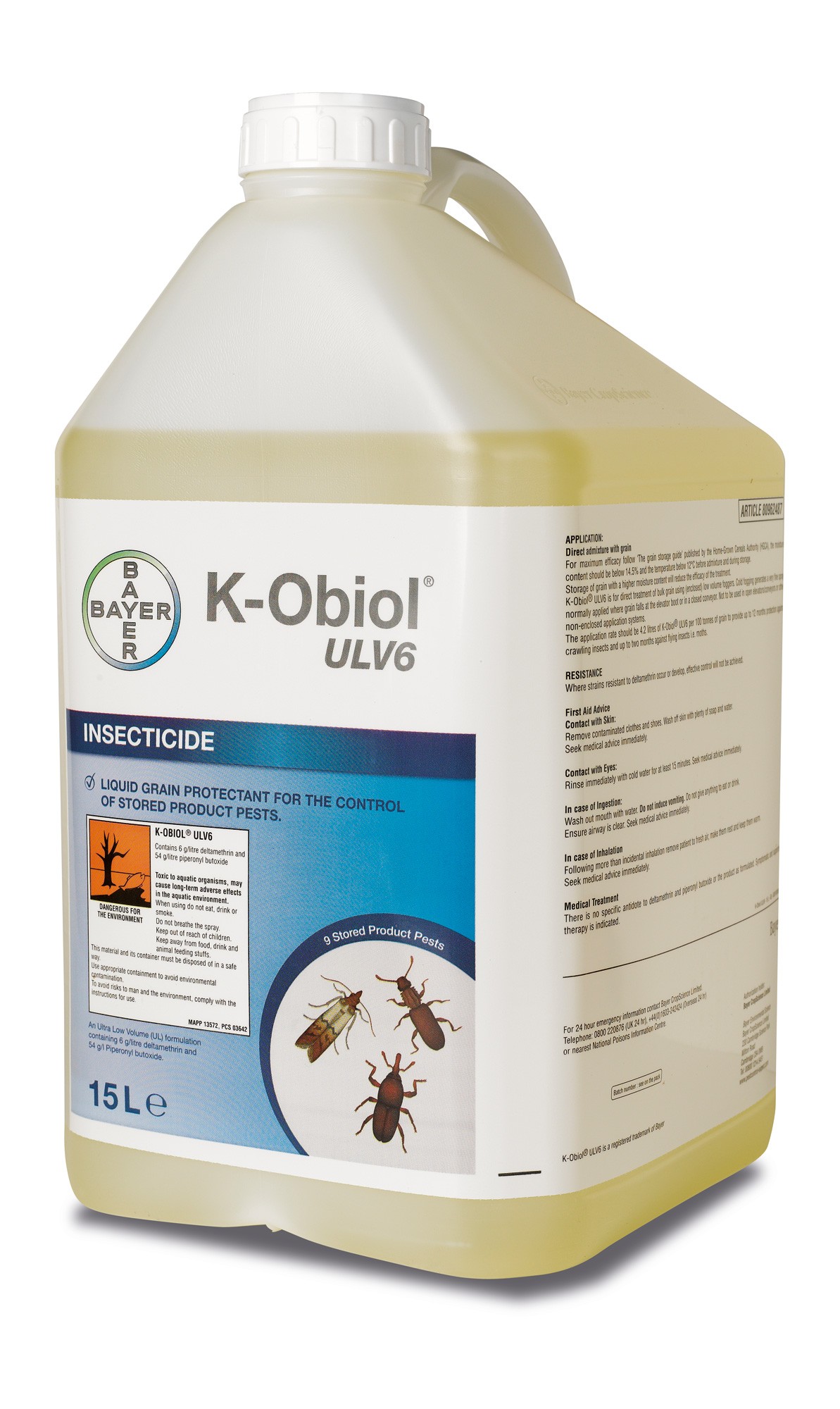 Unique to the UK and exclusively available from Lodi UK! An innovative formulation which is applied directly to the grain giving it continual protection for up to 12 months.
Pyrethroid Formulation
K-Obiol® ULV6 is a modern pyrethroid formulation containing Deltamethrin, synergised with piperonyl butoxide for the control of all stored product insects known to infest grain and pulses. This Pyrethroid formulation is an ideal alternative to organo-phosphorus formulations.
Ready to Use
K-Obiol® ULV6 is ready to use liquid grain protectant for the control of stored product pests including crawling insects such as grain weevils, flour beetles, grain borers, saw-toothed grain beetles and bean weevils and flying insects such as rice moths, indian meal moths and grain moths for up to 12 months.
The pack connects directly to application machinery so there is no measuring or pouring required. The system reduces the risk of application errors, has no concentrate to expose operators to & allows load rates to be maintained.
K-Obiol contains
Deltamethrin 6gms/litre. Piperonyl butoxide 54gms/litre.
K-Obiol is accepted for use by the Brewing Research International (BRI) and the National Association of British and Irish Millers (NABIM)
MAPP: 13572
New Ultra Low Volume (ULV) Pyrethroid Formulation containing Deltamethrin and Piperonyl Butoxide.
Ready to use.
No withholding period after treatment.
Up to 12 months control on grain and residues are removed in processing (Beer and Bread).
Application Rate
4.2L of K-Obiol® ULV6 for 100 tonnes of grain for 12 months protection.
The Application rate of 42ml per tonne (or 42mg/kg) means the MRL is not breeched and is 8 times less than accepted limits.
The manufacturing process of brewing and baking removes the residues of Deltamethrin therefore Deltamethrin is not detected in the finished product.
Specialist Ultra Low Volume (ULV) application equipment is required.